One To One Full Day Course £200
Already had a taste of the fascinating world of glass fusing and would like some one to one support...or maybe you want to try your hand with a new craft with one to one help where you need it.. then this course is just the thing for you!
As a course for one person you will get individual attention, with guidance to help you decide on your chosen design, colours of glass, which kiln firing schedule to use, down to how to display your finished art work.
Choosing from a large selection of fusing art glass and how to make the best use of the equipment and supplies we have at Tregarth studio you will have the whole day to make a statement piece or several smaller pieces with one to one tuition and undivided attention.
To keep us both safe, all students are required to confirm that they will adhere to the Pink House Glass Recommencing Courses Student Covid 19 Health and Safety Policy details of which will be sent to you when you have chosen your course date.
Please bear in mind, as with any social mixing, a change in the Covid 19 restrictions may mean a change in the course dates available.
As this is a One to One course for one person the dates can also be tailored to suit you, so drop an email using the contact page or to [email protected] with any dates you have in mind and we will get back to you.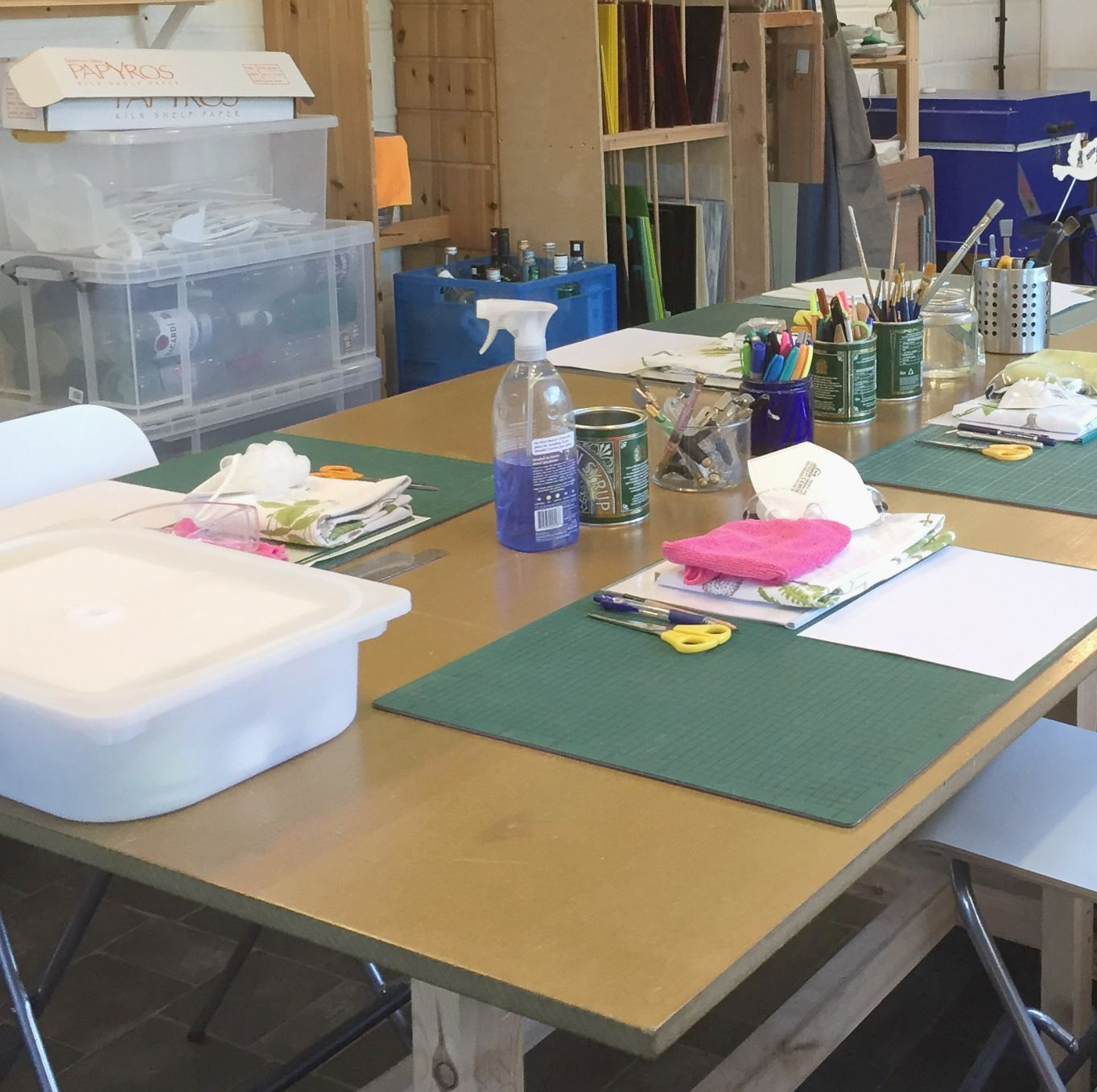 unleash your creativity...
whats included?
You will be provided with refreshments and homemade cookies on arrival while we cover the health and safety policies and discuss your ideas. We have a large selection of clear and coloured art glass, frits, stingers, glass enamel paint, decals, inculsions, kiln carving materials and a wide selection of slumping moulds for bowls and dishes and lots of ideas to help you achieve your chosen design. If you have a project in mind or need some help deciding on what to make, this course can be tailormade to suit you!
You will be shown how to cut glass with plenty of practise before you start cutting art glass for your design. Fancy making a staement bowl, or an art piece reflecting your favourite colours, you can choose to make one large piece or several smaller pieces with lots of advice and help on hand. This day is all about you!
Lunch is a two course meal usually served around 1.00pm but the beauty of a one to one is the day is yours so we can be flexible. Some students have said it was worth coming for the food alone!
The afternoon will be spent finishing your designs ready to place in the kiln. The pieces will be fired and ready for collection or posted on to you with an additional cost to cover post and packing.
Please let us know when booking your workshop if you have any dietary requirements, and we will bear these in mind when catering for the day.
All your creations will be ready for collection in a few days or they can be posted to you if you are unable to collect with a small additional charge to cover post and packing.
how to book?
This bespoke course is held through out the year. Please send me a message on the contact page or email [email protected] to ask about availability and booking.