Come and enjoy a one day introduction to glass fusing in the lovely North Cornish village of Kilkhamton, 5 miles from Bude. The fused glass workshop runs from 9.30am to 4.30pm in our lovely spacious studio.
To book a place, check out the main 'course diary' page for dates and then send a message either using our 'contact page' or send an email to [email protected]
New course dates have been listed for 2022, if there is any change in the Government guidelines at any time in 2022 then these dates may have to be revised, but please rest assured, that your health and wellbeing are a top priority and the measures we have put in place for workshops to resume have been well thought out to minimise any risk.
Amanda is a self taught glass artist who sells to galleries and at craft fairs and was constantly being asked if she taught classes, so she started teaching about 10 years ago and absolutely loves passing on all she has learnt. 'Everyone is creative, we might just need reminding how good creating really feels. We welcome the naturally creative AND those who might need a bit more inspiration - we have designs and ideas aplenty! You just need to bring your enthusiasm, closed in shoes and be prepared for a glassy adventure...'
We want to ensure that your day spent here at Tregarth Studio is as stress free as possible so on booking each student must confirm that they are willing to adhere to the current Pink House Glass Covid 19 saftey policiy . We want the day to be all about the fascinating world of glass fusing, for you to lose yourself in the creative process and enjoy the lunch too!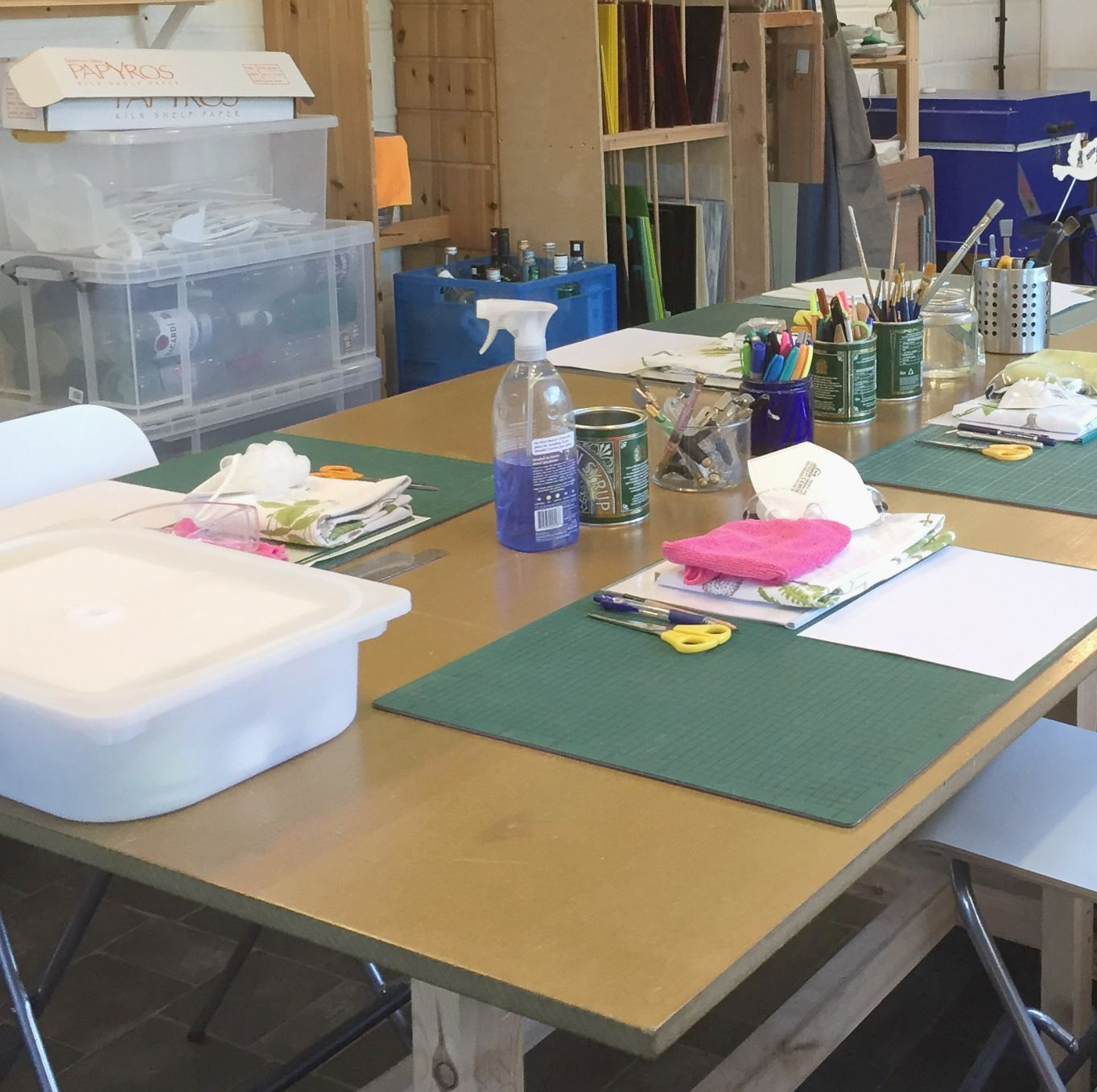 unleash your creativity...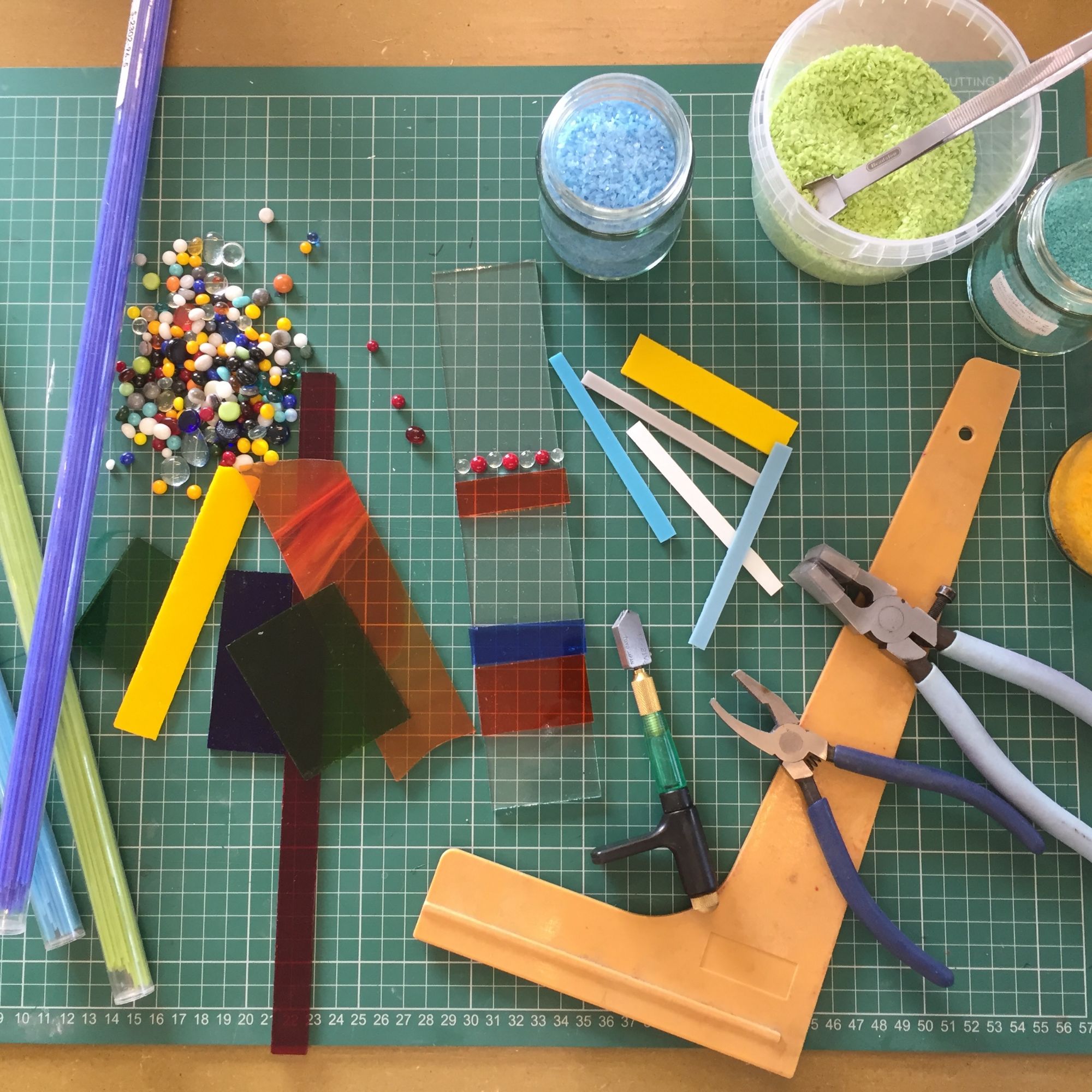 whats included?
On arrival you will be welcomed with delicious homemade biscuits and refreshments, whilst we cover the our Studio Health and Safety Policies.
After a busy morning working on your first project we will stop at 1.00pm for a locally sourced two course lunch made by our resident cordon bleu chef! Some people said 'it was worth coming for the lunch alone!' Please let us know when booking your course if you have any dietary requirements, and we will bear these in mind when catering for the day.
As well as the lunch and day's experience all materials, kiln firings, safety equipment and course booklet are included in the price. After your days experience you will have made a kilncarved cheese/food platter 25x25 cm or hanging and a choice of a free standing fused glass piece or a framed piece of artwork. If you chose the option of have your piece of art work framed there will be a reasonable cost to cover the 'limed oak' white box frame.
course content.......For your first project :- You will learn the fascinating method of kiln carving- using fibre paper to create a design which is laid under your precut square clear glass pieces before firing to make a cheese/food plate or hanging, which you will then place in the kiln ready for firing.
You will be taught how to cut glass, with plenty of practice ready for the afternoon's project where you can make a design of your choice, exploring the use of frit, stringers, glass enamel paint and a gorgeous range of coloured fusing glass.
For your second project :- You can decide to you make an 'S' shape free standing piece (25x10cm) or a square 'tile' (18x18cm) which can then be framed. If you chose a free standing design, your glass piece will undergo two firings, one to fuse it, then a further firing to slump it onto an "S" shaped curved mould to allow it to free stand on completion.
If you chose to make a piece of framed artwork we have reasonably priced 'limed oak' square box frames in stock here in the studio. Your piece will be framed ready for your collection or if you are unable to collect in person, posted out to you.
All your creations will be ready for collection in a few days or they can be posted to you if you are unable to collect with a small additional charge to cover post and packing.
Due to health and safety the age limit is 12 yrs accompanied with a parent/guardian also taking part in the course.
All your creations will be ready for collection in a few days or they can be posted to you if you are unable to collect with a small additional charge to cover post and packing.
how to book?
Please see the main 'course diary' page for a calendar of course dates available. Send us a message on the contact page or email [email protected] to ask about availability and booking.